A superb choice of Windows that will transform your home
Attractive, high performance and extremely secure - from the UK's leading PVCu Window manufacturer
Made in the UK to the highest industry standards, our range of PVCu windows combine good looks, energy efficiency and high security. From the popular casement and bay window to the more contemporary bow and slider design, each one has been thoroughly tested and every window carries a full 10 year comprehensive warranty.
An attractive, energy efficient product range
Saving energy has never been so important - choosing an efficient window system is vital.

Besides the aesthetic appearance, for many people, one of the most important factors when choosing new PVCu windows is the energy saving qualities they offer. Using state of art manufacturing methods and the highest grade of components, our PVCu Window range out performs most window systems to make your home a warm comfortable environment and give you a significant saving on your heating bill.

Whatever the period or style of your home, we have a choice of Window styles that will complement its character and blend in with existing features. We also offer the option of having a fully featured or fully chamfered profile and there's a comprehensive choice of finishes and glass options to individualise your windows and transform your home.
Tried and tested to withstand the test of time
Superb choice of styles to suit the period of your home
Attractive range of profile colour and glass options
Energy Efficient to retain heat and conserve energy
High Security multi point locking for peace of mind
Dual weatherseal for thermal efficiency
Multi chamber frame construction
Full 65 mm frame depth to house chamber
Steel reinforcement to BBA standards
Fully welded profile joints to ensure durability

CASEMENT WINDOWS
Modern & Attractive
Safe, stylish and secure - the casement window is our most popular choice.

Good looks, high performance and designed to the highest industry standards, the casement window is a firm favourite and will greatly enhance your home whatever the period.

Pleasing on the eye and requiring minimal maintenance, all of our casement window designs are available in an attractive choice of finish to include Brilliant White, Rosewood, Mellow Oak and Schwarz Braun.
TRADITIONAL STYLE BAY WINDOWS
Style with outstanding performance
This traditional style is a firm favourite that creates extra space and allows the light to pour into a room throughout the day. The configuration of the bay window is most suited to the casement design and available in a multi facet style to suit your home.

For that individual touch, we also offer a wide choice of lead or bevel designs for the glass.
CLASSIC DESIGN BOW WINDOWS
An attractive choice for modern homes
The Bow Window is ideal for modern properties and gives the illusion of depth to any room in your house. They also allow more light to enter your home as well as provide an attractive window cill.

Both our Bay and Bow styles are available in a choice of multi - faceted designs with openers and fanlight combinations to suit your individual requirements.
CONTEMPORARY VERTICAL SLIDER AND TILT & TURN WINDOWS
Classic looks & modern technology combine
Our range of vertical sliding sash windows are classically designed with all the benefits of modern materials and 21st century manufacture.

Unlike the wooden sash windows of Victorian times, our sash windows are made from high performance PVCu to provide strength, weather resistance and an easy smooth operation whilst retaining their elegant appearance to include mock horns.

With no painting or peeling to worry about, our sash window range will compliment the style of contemporary and period homes for many years.
VERTICAL SLIDER - SPECIFICATION
Whilst our range of Vertical Slider Windows exude charisma and period charm, they are made to meet the needs of modern day living with low maintenance, high security features.
Wide choice of window style
Attractive range of glass options
Modern spring balances for smooth operation
High Performance weather seal protection
Choice of chrome, brass or white finish hardware
TILT & TURN - SPECIFICATION
Our Tilt & Turn windows offer a versatile alternative to our casement range - turn the handle once and the window tilts in for ventilation. Turn the handle further and the window hinges inwards for easy cleaning and escape in case of emergency.
Wide choice of designs & style
Can be used as an emergency exit
Easy to clean from inside your home
All our windows come with a variety of style options.
FULLY FEATURED OR FULLY CHAMFERED
We offer a choice of fully chamfered or fully featured profiles on all Window styles with the exception of our Tilt & Turn range that is made in chamfered style only. Both designs offer the latest in thermal performance and energy efficiency and are available in an attractive choice of colour finishes to include Brilliant White, Rosewood, Mellow Oak or Schwarz Braun.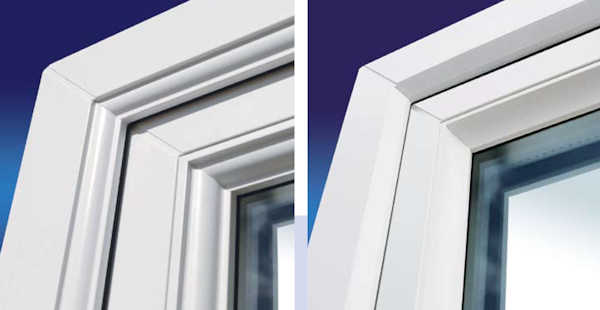 FULLY FEATURED
The Fully Featured profile has a convex beading known as 'Ovolo' - see below. The origins of this distinctive moulding date from classical Greek and Roman architecture and became popular on stone windows during the 16th century.
FULLY CHAMFERED
The slim and classic lines of our Chamfered suite offer the latest in thermal performance, design and security . With an attractive choice of style, our chamfered design will enhance the period of your home for many years to come.

All of our window styles are manufactured to offer the latest in thermal performance and our casement range is no exception. From the coated glass and dual weatherseals to the 28mm sealed unit, every component that makes up our casement windows has been designed to provide the highest levels of performance and energy saving qualities.

Ovolo Beading
The featured Ovolo beading creates fine shadow lines to give a soft and pleasing look to any installation.