Our Windows will reduce the amount of heat you need
With the ever increasing cost of energy, it's now more important than ever to conserve the heat generated in your home. As most homes have wall and roof insulation, glazing and the efficiency of your windows remain the prime factor when calculating heat loss.

Installing our energy efficient windows will positively reduce the amount of heat you need to generate and the result will be significant savings on your annual heating bill.
Save up to £315.00 a year on Energy Costs
If your home is single glazed or your double-glazing was installed prior to April 2002 then you could be losing more heat than necessary and therefore money, literally out of the window. However, by switching to Energy Efficient Windows you can save energy and reduce your annual household heating costs by as much as £315.00 per annum.
TECHNICAL INFORMATION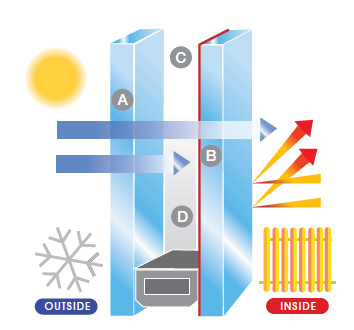 OUTER GLASS

- Coated Glass is specially formulated to be extra clear and highly transparent compared to ordinary clear float glass used on many units. It maximises solar heat gain and natural light to optimise energy efficiency inside.

INNER GLASS

- The inner glass of the sealed unit incorporates the latest advancement in thermally insulating glass coating technology. The result is that it effectively reflects long wave heat radiation back into a room, minimising heat loss through the glass.

CAVITY & FRAME

- Using the Optimum Cavity Width of the sealed unit and housing it in a high quality Multichamber PVC frame construction helps to reduce heat loss and condensation.

ARGON GAS

(Optional) - The Argon gas we use to fill the glazing cavity is far more energy efficient than commonly used air as it reduces the cold air coming in and restricts warm air going out.
Our energy efficient windows will significantly reduce your home heating requirements and annual heating costs.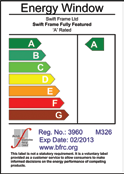 The ideal Energy Rating for your home...

Window Energy Ratings (WER) are a guide to the energy performance of your windows. The British Fenestration Ratings Council (BFRC) window energy rating scheme checks all the components to ensure the final window achieves the energy efficient standard claimed. This means that you just need to look for the A-G ratings and remember A is best – the higher the energy rating, the more energy efficient it is.

With each high performance PVCu Window we produce, there are an infinite number of components that determine the Energy Efficiency of a particular style. Please ask as to what rating would suit your requirements best.
Solar Heat Gain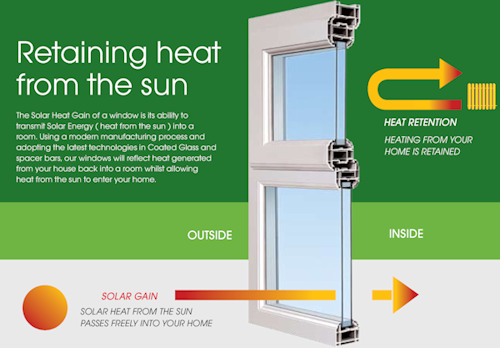 Further benefits of Solar Heat gain...
MORE COMFORTABLE ROOMS - Better insulation means fewer cold spots and drafts near windows and doors.

LESS CONDENSATION - The inner surface of the glass stays warmer therefore reducing the chance of condensation With clearer vision through your windows your curtains or Georgian Bars do not look discoloured.
N.B Please note that condensation is a natural occurrence and can never be totally eradicated

LESS TINT TO THE GLASS - With clearer vision through your windows your curtains or Georgian Bars do not look discoloured.

LOWER FUEL BILLS - With the benefits of improved indoor heat retention and solar gain from outside, the cost of keeping your home nice and warm will be greatly reduced Further benefits of Solar Heat gain.
Enhance your quality of life
Our energy efficient windows will not only save you money, they'll also reduce noise and increase security

Improving your home with our PVCu Windows will do far more than transform the look of your home. They will also make it warmer, more secure as well as reduce noise pollution. It all adds up to a more comfortable home and a peace of mind that only our 10 year comprehensive warranty can provide.

If you live in a noisy city or near an airport or a busy road, noise pollution is inevitable and can have a negative impact on your health and well being. The multi chamber construction of our window profile, with twin weather seals on the outer and inner edges and a sealed glass unit with a full 20mm space between the panes will greatly reduce outside noise pollution and enhance your quality of life.

Whichever style you choose, you can be sure they will dramatically improve the look of your home and greatly add to its level of comfort.
Our Energy Efficient Windows make a world of difference
When you heat your house with oil, gas or coal, you also generate CO2. Even if you heat your house with electricity, the generation of the electrical power may also have emitted a certain amount of CO2. It is the way the world works but if like most people you would like to minimise the amount of CO2 that heating your home produces, fitting our energy efficient windows is a good move. In the UK alone, up to 5 million tonnes of CO2 emissions could be saved each year if everyone had Energy Efficient windows installed.
Taking steps to lower your Carbon Footprint
If you live in a single glazed house and install Energy Efficient Windows, you could reduce the energy you use by 0.30 tonnes or 18% - almost reaching the Government target of 20% reduction per household. Add to this other simple energy saving measures – such as insulating your home and turning down the central heating by 1° C - and you could be making a real impact on reducing your carbon footprint.