Complete the look with quality hardware.
Our superb choice of handles and letterboxes are specially selected to compliment your windows and doors. With a variety of colours and finishes coupled with a range of different styles you can be sure of achieving the desired look.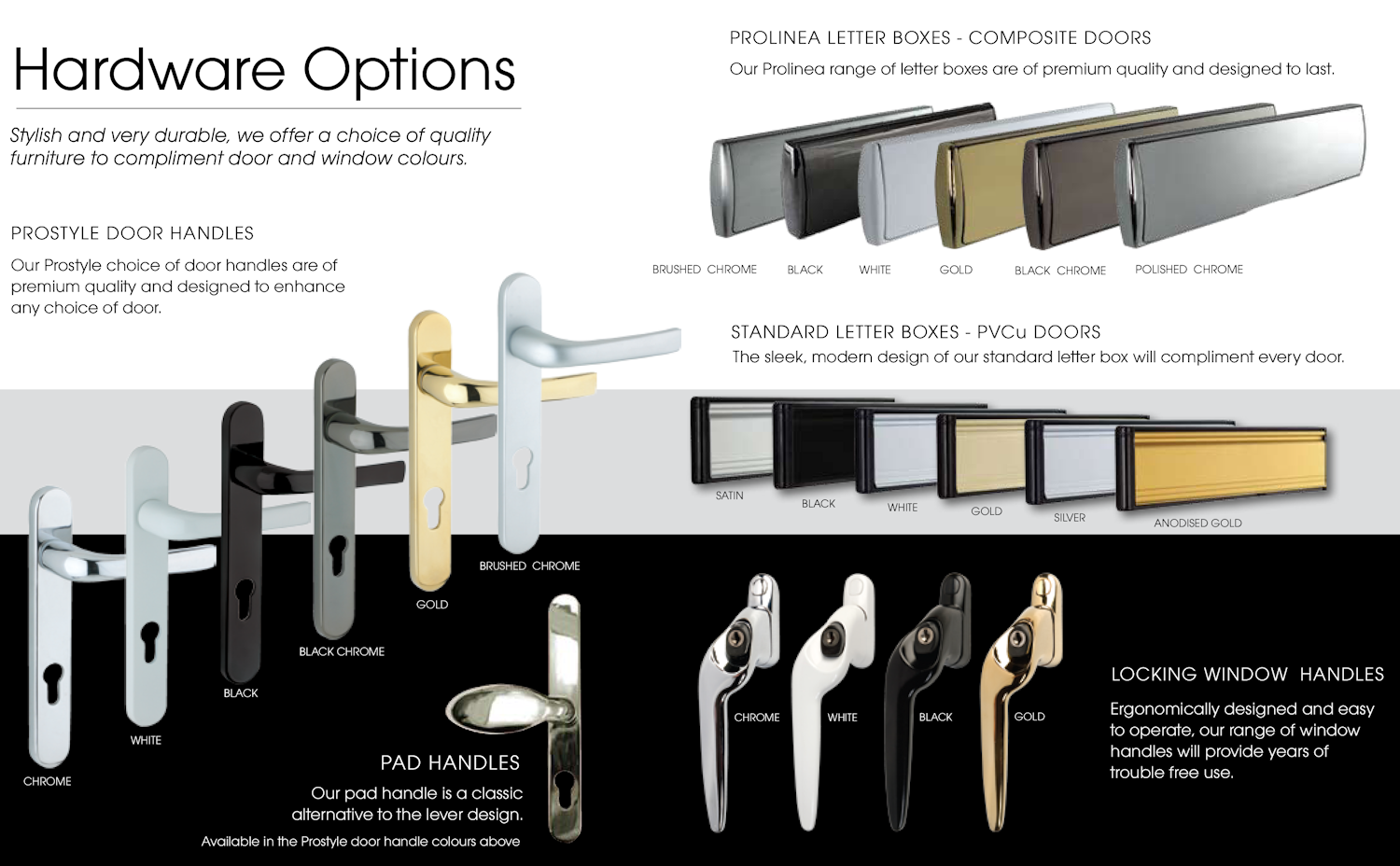 Security
Security is a vital consideration when installing new doors and windows
Window Security
A superior system that offers real protection against a home break in. The security we offer on our Window range is designed to make life easier for you and virtually impossible for even the most determined thief.

Our internally glazed Windows are fitted with Espagnolette high security locking as standard. Optional shootbolt mechanism offers enhanced security that consists of 2 high tensile brass bolts and a high strength centre deadbolt which lock securely into ultra strong, rust free keeps.
LOCKING HANDLE AS STANDARD
The stylish and ergonomic design of our handle range will ensure years of reliable, trouble free use. Available in a choice of finish to include chrome, white, gold and black, each handle incorporates an easy action thumb press opening button and key operated lock.
Upgrade to the latest Nico system for the ultimate defence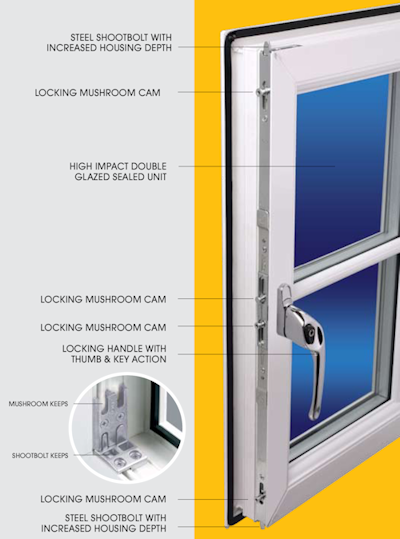 As one of the UK's leading hardware manufacturers, Nico's range of window products have been designed to meet the very highest standards of security and through years of research and development have achieved BSI as well as BBA certification.

The 6 point integral security system they produce is made from high tensile steel and in one easy handle action, up to 4 Mushroom cams are locked into place and shootbolts at the top and bottom of the window engage. The result puts window security onto a new level and it is highly recommended for the ultimate defence against a home break in.
Up to 4 High Security Mushroom Cams
2 Shootbolts engage top and bottom
Thumb operated locking handle with key
Tried and tested to exceed BS7950
The Nico Two TwinCam Shootbolt is designed for strength and reliability. Manufactured in the UK to the most exacting standards the new lock provides an effective, secure locking system that has been tested to exceed the requirements of the recognised security standards BS7950 and Secure By Design.

It also has a special coating (supercoat 500) that enables it to achieve a grade 5 (exceptionally high resistance to corrosion) making it suitable for coastal and industrial use.
Door Security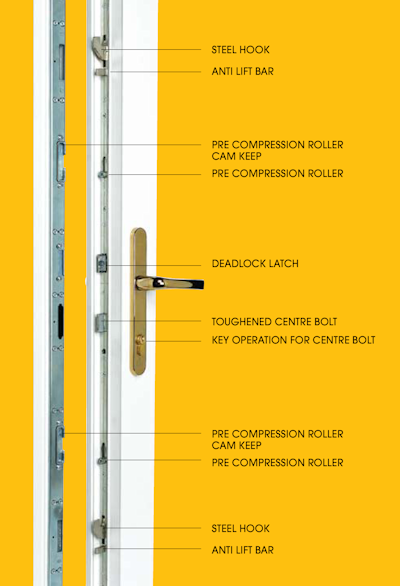 An integral locking system to deter even the most persistent intruder

We take door security very seriously and as the first port of call for unwanted guests, we have designed a security system to keep them out in the cold and you safely inside.

All Entrance Doors, Patio Doors and French Doors are fitted with a strong and effective rollercam locking mechanism as standard. An option of 2 or 4 hooklocks with anti-lift bars can be added for extra defence.

Paddock are one of the UK's leading door security specialists offering a comprehensive range of locking features for Residential and French Doors.
From the security options illustrated below, some features are fitted as standard, other devices are optional, depending on the amount of security you require.

Our door security options have been designed to give you, your home and your family the ultimate protection against forced entry.
Multi Point Locking as standard
Toughened Centre Bolt
Hooklock with Anti Lift Bar
Deadlock Latch Fitted on all doors
Optional Anti Jemmy Hingebolts